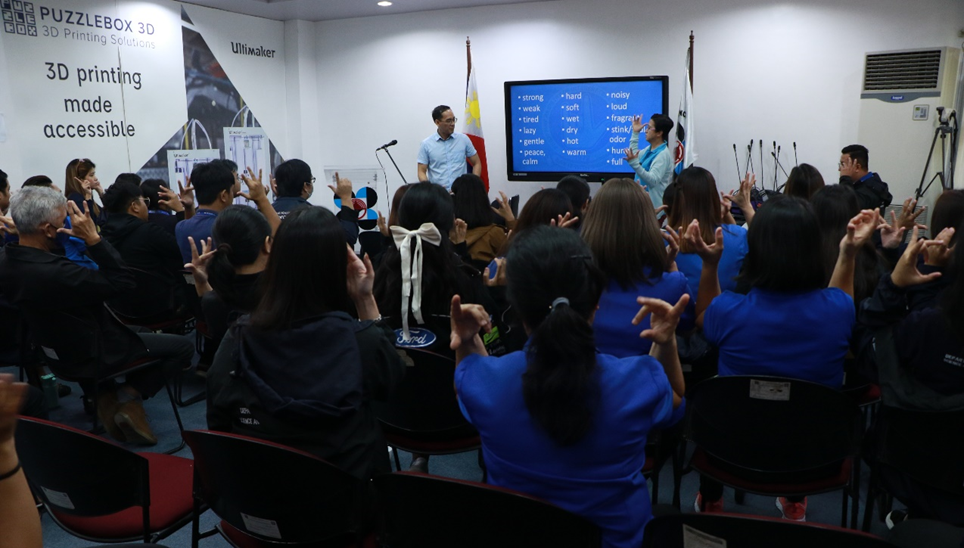 In a bid to create an inclusive community for the deaf and hard of hearing persons, the Department of Science and Technology – Science and Technology Information Institute (DOST-STII) conducted a two-day training workshop on Filipino Sign Language (FSL) as a way to promote effective and inclusive communication.
Held recently at the DOST-STII Mini Theater, the workshop aimed to equip the institute's employees with knowledge of the deaf culture, basic sign terminologies and communication, and the application of FSL to address communication gaps among persons with disabilities (PWD). This initiative is envisioned to provide better service to the public by addressing their special needs.
"Language is a very powerful tool that bridges gaps and connects people from all walks of life. And in our pursuit of creating an inclusive working environment, it is important
that we recognize and embrace the languages used by all members of our community," DOST-STII Director Richard P. Burgos said in his opening remarks.
Learning the FSL is also proof of the agency's commitment to creating a workplace that advocates for equal opportunities and respect for diversity, and where "everyone's voice is heard regardless of their abilities," the director added.
The deaf community has its own culture and language, wherein the conventional practices of hearing individuals may be inapplicable, Dean Edward A. Dimaguila, sign language trainer and evaluator at the Philippine Registry of Interpreters for the Deaf, said during his presentation, and these differences must be acknowledged in cultivating an inclusive workplace.
"Mayroon silang mga shared life experiences kahit sila ay apart from each other. And, sometimes, the experiences are not very good. Sometimes the experiences are that of alienation and neglect from us, hearing [community]," he added.
(They have shared life experiences despite being apart from each other. And, sometimes, the experiences are not very good. Sometimes, the experiences are that of alienation and neglect from us, hearing [community.])
Dimaguila also urged the participants to communicate with the deaf people to effectively practice the FSL, as they are the real experts in the said sign language.
He also emphasized that despite tackling only the primary signs and application of FSL, when used in the proper context, with accurate facial expression and body movement, it becomes a whole sentence that the deaf community could understand.
"Please don't be afraid na makipag-communicate sa mga deaf kasi sila ay … walang kausap. Kaya tayo kapag nakita nila na nagta-try tayo, nage-effort tayo na magsenyas kahit kaunti, kahit mali-mali, very patient ang mga deaf na magturo sa atin," he said.
(Please don't be afraid to communicate with the deaf people because … they have no one to talk to. So, if they see us trying and making an effort in doing sign language little by little, even if it is inconsistent, the deaf will be patient to teach us.)
According to the World Health Organization, over 700 million people, or one in every 10 people, are estimated to have disabling hearing loss by 2050. Hearing loss may be categorized as mild, moderate, severe, or profound, which could affect one or both ears of an individual.
Dimaguila also cautioned against using terms such as hearing impaired, deaf-mute, deaf and dumb, and hearing deficient when referring to deaf people, which are found offensive by the deaf community. The terms "deaf" for people with little to no hearing, and "hard of hearing" for people with mild to severe hearing loss can be used instead.
Emerging and evolving FSL
The FSL has been recognized as the national sign language of the country through Republic Act No. 11106, or the Filipino Sign Language Act of 2018, which mandates that the FSL be used as the medium of communication of the government in all transactions involving people who are deaf or hard of hearing.
However, Dimaguila noted that no universal sign language exists, as signs and gestures vary in every country.
Sign language interpreter, Jordan S. Madronio also encouraged the attendees not to limit the signs they use by the book since sign languages continue to evolve and new signs emerge.
"Ang senyas nagbabago rin. Kaya kami, nagugulat na lang kami kahit alam na naming sumenyas; it's a lifelong learning … 'Yan ang katunayan, sabi ng isang [linguist], na ang senyas ay evolving. Ibig sabihin lumalago kasi ginagamit … Ibig sabihin buhay ang lenggwahe ng senyas," Madronio explained.
(The signs also change. We are surprised even though we know how to do sign language; it's a lifelong learning … That's the proof, according to a linguist, that signs are evolving. It evolves because it is being used … It means the sign language is alive.)
Among all, the most important benefit of learning the FSL is that it could help advocate for the needs and rights of the deaf and hard of hearing communities, chief of the Information Resources and Analysis Division, Alan C. Taule said in his closing remarks.
"It can also advocate for raising awareness of deaf culture and the challenges faced by these communities. In conclusion, learning sign language is not only a valuable skill but
also a means of fostering inclusivity, enhancing communication, and promoting cultural understanding," he said.
Taule also urged the participants to expand and include in their peer group those who are deaf or hard of hearing, who definitely can contribute to various activities.
The event also held interactive sessions, including interpreting songs and constructing simple conversations using basic sign language, led by Aileen G. Santos, deaf assist and trainer at the Philippine Registry of Interpreters for the Deaf.
The training workshop was organized by the DOST-STII PWD Committee. (by Kristine Erika L. Agustin, DOST-STII)