WAYBACK in 2011, an entrepreneur sat in a four-cornered room, was listening, and passionately processing the talk of Engr. Rosemarie Garcia of the DOST-Food and Nutrition Research Institute (FNRI) on complimentary.
This happened during a food in a technology forum hosted by the Department of Science and Technology Regional Office 1 (DOST 1). Later, that forum would catalyze a long-term relationship with the DOST toward achieving a common goal — to alleviate the malnutrition problem among Filipino children.
That entrepreneur was Mr. Racky Doctor. Behind his appearance lies a purposeful advocacy instrumental to his success in entrepreneurship.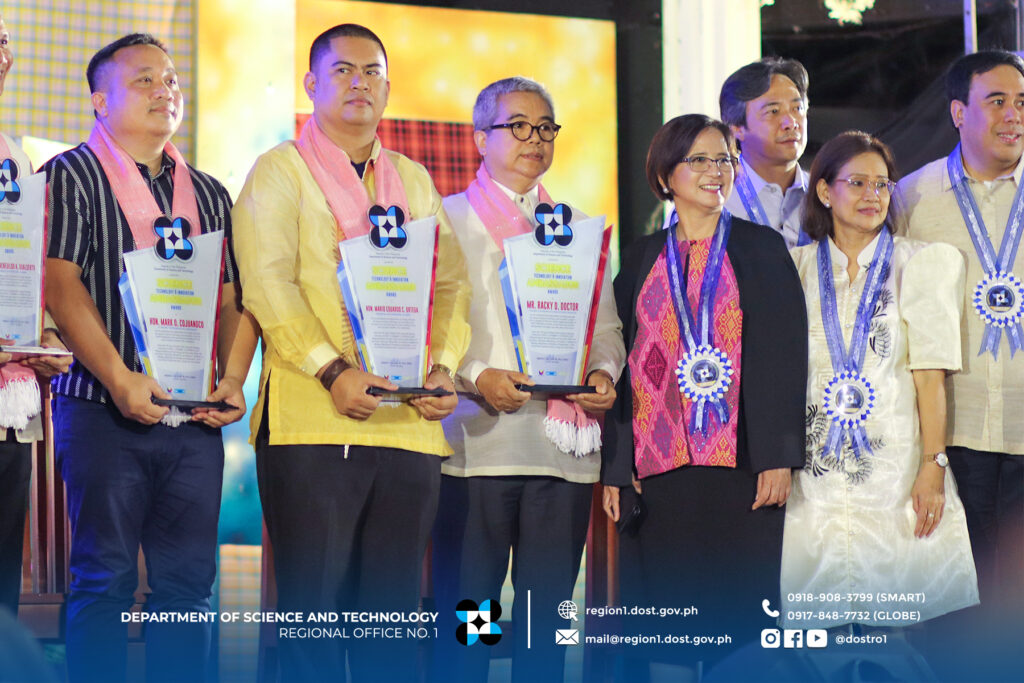 In more than a decade-long partnership with DOST 1, this guy successfully established Nutridense Food Manufacturing Corporation, which soon became one of the country's leading licensed food manufacturers of healthy, nutritious, and research-based food products.
Early beginnings:
Doctor's first company, Long Live Pharma, initially ventured on Hyposol or "Waterine" solution that serves as a drinking water disinfectant. It was in 2009 when he first availed of the Small Enterprise Technology Upgrading Program (SETUP) assistance, which helped them acquire equipment to increase productivity and improve packaging.
SETUP is DOST's flagship program to address the needs and requirements of various enterprises through the provision and upgrading of technology and equipment, fortifying their innovation capability, increasing productivity, and producing quality products that further the attainment of sustainable and inclusive growth in the country.
Eventually, Doctor established Nutridense Food Manufacturing Corporation, a subsidiary of Long Live Pharma (LLP).
His passion for producing new products and his burning desire to uplift nutrition problems, are both instrumental in the birth of Nutridense.
With the help of the DOST-FNRI and SETUP, Nutridense gradually permeated the food manufacturing industry. It also contributed to address the nutrition problem among Filipino children.
Advocacy-driven Nutridense came to light when the DOST-FNRI offered Doctor the technology and formula to produce complementary food for children as part of the department's science and technology-based intervention program to address malnutrition.
Doctor immediately grabbed the opportunity, as he recognized the significant role of entrepreneurs in solving the problem.
In realizing the aim to alleviate malnutrition, Nutridense produced different food products specifically formulated to reduce the malnourishment rate in the country. These products include RIMO Curls, a rice-mongo curls snack, RIMO Blends, rice-mongo instant baby cereals, Momsie, a rich-nutty chocolate complementary food, brown rice bar, enhanced Nutribun, and Go and Grow, a micronutrient powder mix, among others.
With their nutritional benefits, some of these food products are currently used in the Department of Education and Department of Social Welfare and Development's (DSWD) supplementary feeding programs.
Nutridense also took significant steps in addressing anemia among Filipinos in 2016. The promotion and consumption of iron-fortified rice in La Union is one of Nutridense's answers to the said problem.
Doctor said Iron-Fortified Rice (IFR) is a well-milled rice mixed with mineral iron in rice kernel form. It is like ordinary rice but contains more iron which prevents Iron Deficiency Anemia among the people.
To this day, Nutridense continues to produce these goods. The mission to realize their advocacies continues to roll on.
Starting a new business is challenging. Even if Doctor had a prior business with LLP, buying the equipment needed to produce food products was quite a handful. Then the DOST-FNRI and SETUP supported him in acquiring the technologies and equipment needed to operate the business.
Some of the FNRI-developed technologies are the IFR and RIMO blends. The FNRI was instrumental in the early development of the firm, as it assisted in the supervision of equipment test runs and trial productions.
In 2015, SETUP provided the equipment like two-screw kernel extruders and blending machine, to commercialize the technologies.
SETUP's intervention and FNRI's food formulas were vital in the significant increase of gross sales and volume production of Nutridense.
The former attendee of a forum is now an established entrepreneur, who received recognitions and spoke on different forums and events for his advocacy-driven enterprise.
His previous awards include FNRI-DOST's Scaling-up Rice Fortification and Kabalikat Award. Doctor also served as a speaker on nutrition during emergencies, malnutrition reduction and complementary feeding, among others.
He was also one of the Science, Technology, and Innovation (STI) Ambassadors of this year's Regional Science, Technology, and Innovation Week (RSTW) in Laoag City, Ilocos Norte from October 16 to 18. "As one of the chosen science ambassadors, together with our esteemed ambassadors awarded today, I commit to support STI programs and activities in Region 1 and personally join to bring science to everyone,"Doctor said in his short speech as an STI ambassador during the opening of RSTW 2023 on October 16.
With Nutridense's accomplishments and effective adoption of DOST's technological intervention, the DOST-1 also recognized him as the Regional Winner of the 2023 Most Industry 4.0-Ready (I-Ready) Award in the Pinna-ScIGLAT Awards of the recently concluded RSTW. "Your continuous assistance in mentoring us and our co-MSMEs, through your programs, has elevated a lot of lives, families, and communities. This I-Ready award ignites another opportunity for Nutridense and a reminder to be always better in serving our customers," Karl Doctor, the elder Doctor's son, said in his acceptance speech.
Today, the businessman serves as an inspiration to every aspiring entrepreneur in founding a company with a cause. While there are risks in establishing enterprises, DOST's programs, like SETUP and research institutions, such as FNRI, are more than willing to lend a hand for the betterment of Filipinos' lives.
In the case of Nutridense, Doctor successfully grew the business by fusing flavors towards the cause of alleviating nutrition problems among Filipino children with the help of DOST. (Patrick R. Balanon)