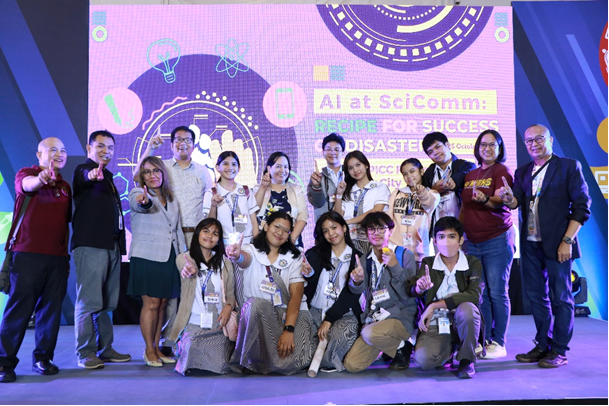 More than 200 junior to senior high school students from 15 educational institutions in Metro Manila and nearby provinces now have a better understanding and appreciation of how Science Communication and various Artificial Intelligence (AI) tools can complement each other.
These students participated in a forum facilitated by the Department of Science and Technology-Science and Technology Information Institute (DOST-STII) for the National Youth Science, Technology, and Innovation Festival (NYSTIF) on October 25, 2023, at the Philippine Convention Center Tent in Pasay City.
The forum, titled "AI at SciComm: Recipe for Success or Disaster?" is a DOST-STII advocacy event aimed at activating young people's interest in communicating science with the creative assistance of Artificial Intelligence (AI) to reach a wide and diverse audience.
"AI is not here to take away our jobs but to make us more efficient in what we do," remarked DOST-STII Director Richard P. Burgos, referring to how AI helps save time and energy in performing tasks that cannot be easily done without advanced tools.
The essence of communicating science to the public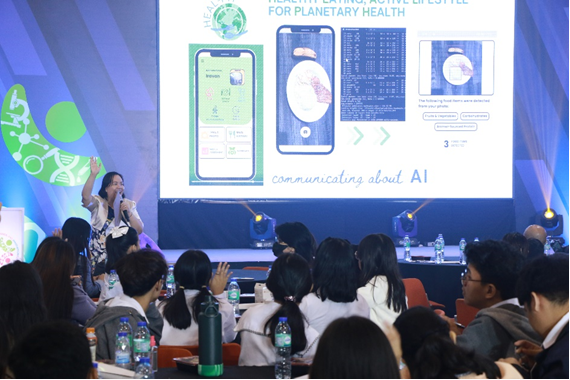 Several industries have placed their bets on the potential of AI to bridge the science information gap in communities for development and safety against disasters.
Five out of ten Filipinos do not seek science, according to Prof. Abriel Adrian Madrid, one of the speakers. She presented the study highlights of the University of the Philippines Los Baños-College of Development Communication on the perspective of 1,200 Filipinos regarding science. This study serves as the basis for creating a harmonized science communication framework.
According to Madrid, Filipinos often perceive science as a technological innovation rather than a subject in school. They view science as abstract, while technology is seen as real. They are more interested in the products of science than the processes behind them.
"Science Communication is any social conversation about science in everyday life. As a Science Communicator, it is our responsibility to make science visible and usable," said Prof. Madrid.
The speaker presented some initiatives of UPLB to provide the public with fun and meaningful exposure to science-based information. She specifically discussed Healthy Eating, Active Lifestyle, for Planetary Health (HEAL-PH). This mobile application, powered by AI, can automatically identify food in images, categorize it according to food groups, and provide nutritional content per serving.
Using HEAL-PH, users can measure the right portion of meals and track movement, burned calories, water intake, and length of sleep. With the help of AI, proper nutrition and diet can be appreciated and taken seriously by adolescents and young adults who can monitor these health statistics on their mobile devices from time to time.
Responsible use of AI and its integration to Science Communication
Meanwhile, Prof. Benjamin M. Vallejo Jr. of UP Diliman-Institute of Environmental Science and Meteorology advocates the principles of responsible AI use adopted by UP students. "AI cannot replace us because it still needs human agency. Humans still have full control over the expected results," explained Prof. Vallejo Jr.
The professor advised students to choose AI tools with a commitment to human protection against abuse and data privacy.
Another speaker, Timothy James M. Dimacali, the head of UP Diliman College of Science-Science Communication Department, uniquely interprets the human interventions in AI services that have compromised the boundary between classical and contemporary arts.
"AI shows us that there are new ways of seeing the world and they help inform our artists," stated Dimacali. While AI has made everything easier, it is still important to learn how to properly instruct AI to execute our own concepts, styles, and desired outputs. In this way, AI can be established as a tool for efficiency and not to strip our credibility and creativity.
Reactor Dr. Johnrob Y. Bantang of UP Diliman National Institute of Physics emphasized the importance of equipping students with basic and advanced technology to prepare them for real-world challenges.
Dr. Bantang explained that integrating virtues into school tasks should encourage students to do good, seek the truth, and make ethical decisions. "We should not think of AI as a solution that will solve all problems in life. We must be responsible for matters that require not only critical thinking but also ethical and emotional abilities to find solutions," noted the reactor.
"For me, AI is a tool just like a paintbrush. The person is still the one who creates a beautiful painting," responded Rodolfo P. de Guzman in the context of the talk. He highlighted that being knowledgeable about the responsible and innovative use of AI in science communication is a step toward narrowing the gap between science and the public.
The student participants particularly expressed their interest in learning how to validate the accuracy of AI-generated content and eagerly await opportunities to fully utilize AI tools.
According to the speakers, it is vital to be aware of the data mining limitations of AI, which can be found in the pop-up disclaimer. Cross-checking information with reputable sources is equally important. Concepts like machine prompts and learning how to communicate with machines are greatly anticipated as the way forward.