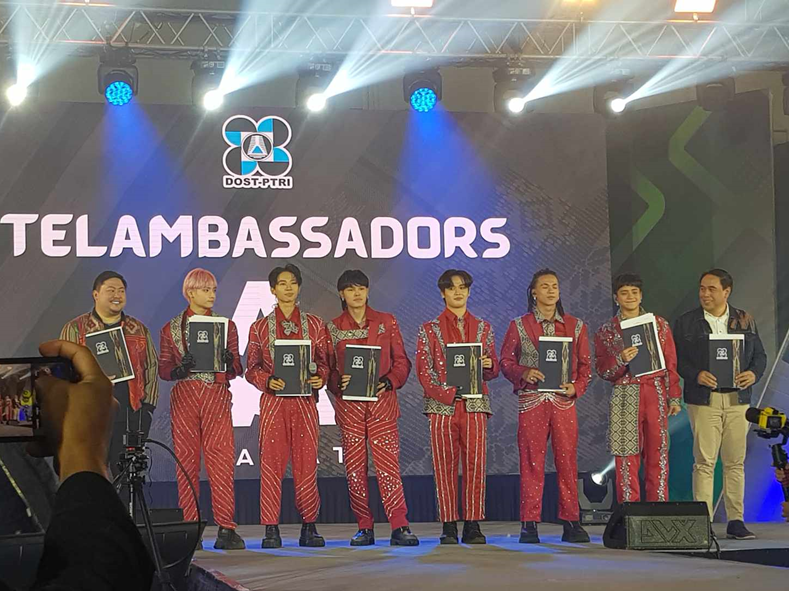 Becoming true to its mission to champion Filipino culture, the P-pop boy group Alamat goes beyond music and is now officially representing Philippine textiles for the country's textile research institute.
The Department of Science and Technology-Philippine Textile Research Institute (DOST-PTRI) announced that the six-member group is the new TELAmbassadors of the agency during the first National Youth, Science, Technology, and Innovation Festival (NYSTIF).
Present in the signing of the memorandum of agreement are Alas, Jao, Mo, R-Ji, Taneo, and Tomás on 26 October 2023 at the Philippine International Convention Center (PICC) Forum Tent in Pasay City.
"Super grateful po kami and super honored kasi Alamat's main goal is [to] promote Filipino culture and part of that is Filipino fashion kaya textiles play a big part in this mission kaya thankful po kami sa DOST-PTRI kasi naging ambassadors po kami," Jao said in an interview with DOST-Science and Technology Information Institute.
The performers also expressed gratitude to DOST-PTRI for teaming up with their group and serving the same goal of promoting culture through fashion.
"Being united together in terms of achieving a goal …. Pinaka-importanteng bagay po sa amin 'yun kasi parang one by one, we're slowly uniting, and hopefully there will be more organizations that we get to unite," Taneo said.
Alas said he is hopeful that their mission to promote Philippine textiles would reach more people through the programs of DOST, and that as they wear Philippine Tropical Fabrics onstage, people will be inspired to do the same.
"Isa kasi sa goal ng Alamat yung hindi na lang siya suotin sa pang-event, gusto namin isuot siya sa pang araw-araw, na parang normal lang siya," Tomas added. While the members have been recently appointed as the TELAmbassadors, the collaboration between them and the agency has long been established. In their music video "Day and Night," the P-pop group wore outfits made of natural textile fibers including blends of cotton-bamboo, cotton-pineapple leaf, and lyocell-pineapple leaf provided by the DOST-PTRI. The group also showcased the sustainable Pinilian woven fabric as they performed during the 2023 FIBA Basketball World Cup on 25 August 2023.
SAFATOS program launched
Alamat graced the DOST-PTRI's Stitch-Off Tech-Know Fashion Show with their songs, such as "Mahanari" and "Day and Night," while wearing sustainable shoes developed by the agency under their newest program, SAFATOS footwear 4.0.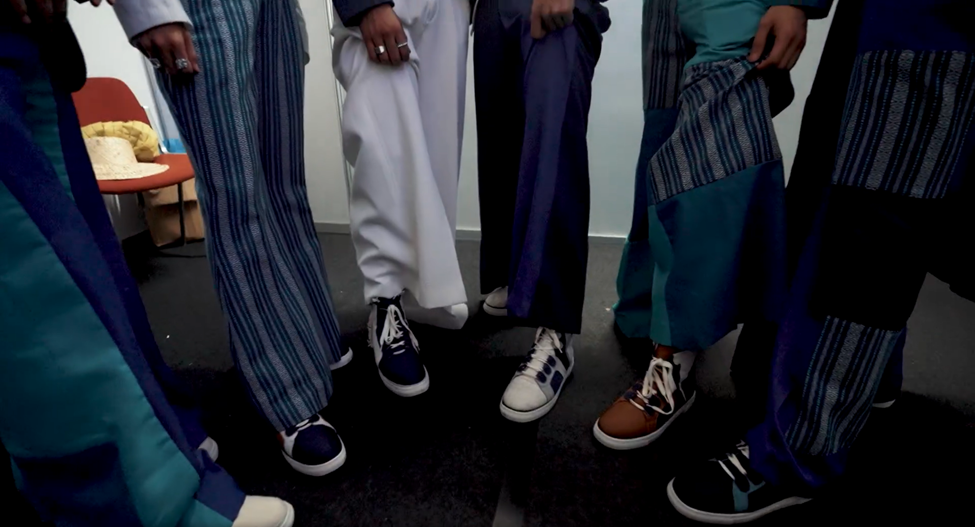 SAFATOS, or Shoes and Footwear Accessories R&D on Textile-based Omnibus Solutions, was also launched during NYSTIF, aiming to improve and innovate the Philippine footwear industry.
Under the program are four projects namely Sustainable Textiles for Community-based Philippine Footwear Industries (STEP-In), Knitted Natural Textile Fiber-Based Spacer Fabrics for the local footwear industry (3D Warp), Size PH, and Flat-Knit.
STEP-In aims to develop sustainable textile materials to be used for footwear uppers, Mr. Philip Ajon Basat, Science Research Specialist II at DOST-PTRI, explained during his presentation. He added that they have started to extract fibers from bananas and bamboo for yarn production that are thicker and sturdier than those used for garments and apparel.
Meanwhile, 3D Warp focuses on material development to produce a warp-knitted fabric that can be used for orthopedic and podiatric applications and establish a national foot sizing system through the Size PH project "in the hopes of making local footwear truly Filipino."
Under Flat-Knit, Basat said they are also aiming to develop active and functional shoes, such as those that can be used in athletic applications. The shoes worn by Alamat during their performance are products of the SAFATOS program, made of sustainable materials and specifically designed to be used by performers.
Alamat has been making a name in the music industry since its debut in 2021 and is known for being a multilingual and multiethnic group, with the members themselves hailing from different provinces.
Their debut single "kbye" features the diversity of the Filipino language using seven of it in its verses: Tagalog, Ilocano, Kapampangan, Cebuano, Hiligaynon, Bikolano, and Waray-Waray.
Proudly celebrating Filipino culture and tradition while serving the music and textile industry, Alamat truly embodies the innovation that meets with tradition, living up to its name as a legend. (by Kristine Erika L. Agustin, DOST-STII)