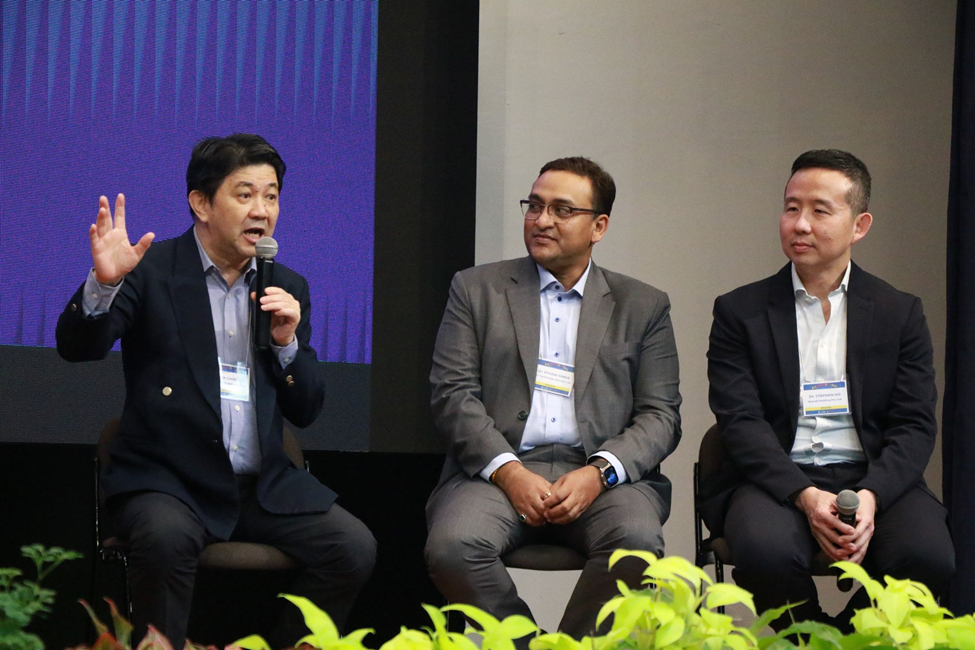 When we hear the word "Smart Cities," the idea that comes to our mind are robots, the country of Singapore, high-end security scanners, 5G internet connection, and other technologies that help us alleviate our daily life basis with just a single press of a button. During the 2023 Regional Science, Technology, and Innovation Week in CALABARZON, the back-to-back celebration featured the theme: "Siyensya, Teknolohiya, at Inobasyon: Kabalikat sa Matatag, Maginhawa at Panatag na Kinabukasan," a different viewpoint on "Smart Cities" was delivered to the public.
Kok-Chin (KC) Tay, Chair, Smart Cities Network Executive Director (ASEAN), Smart Cities Council, gave the basic concept and implementation of Smart and Sustainable Cities in ASEAN. In his presentation, a Smart City, as defined by the Smart Cities Council, "[A city] that uses information and communications technology (ICT) to enhance livability, workability, and sustainability… [done by] collecting, communicating and 'crunching' [data]."According to Tay, there's a huge difference between a digital economy and a smart economy. A digital economy connects only entities, cities, and businesses; while a smart economy collects and analyzes data that provide intelligence that can help in designing a city that would be in line with the UN Sustainable Development Goal 11, that has green sustainability, social sustainability, and economic sustainability while facing rapid population growth and it can adapt to climate change.
UN Sustainable Development Goal 11 (SDG 11 or Global Goal 11)
A Smart City, in conjunction with ISO 37120,should focus on environmental, social, and governance that will contribute to the lives of its people. Tay said there were three things to attain a good smart city, first, the local leaders must be people-centric by serving citizens with greater empathy, through designing policies and services that are inclusive, seamless, and personalized for all. Second, developing operational efficiency and command centers with the use of geographic information systems or GIS-enabled tools allow residents to plan and coordinate among agencies more productively and efficiently especially during a disaster, and wise use of natural resources and eco-friendly transportation that can help minimize air pollution and promote green spaces for better health of the people.
The Philippines' key development challenge to creating markets is the insufficient creation of good quality jobs. Tay said, our country should embark on a Smart City Roadmap implemented with innovative solutions and service providers that create good quality jobs. Tay further said that it starts with the local chief executive himself and the local leaders should have a will and vision for his/her area to be a Smart City.
The question posed was how we can make the Philippines a smart nation, given the challenges such as the archipelagic setting with predominantly rural areas with indigenous communities, and slower internet connection?
Dr. Piyush Sinha, Chief Business Officer of L&T Technology Services, Ltd. said that being an archipelagic country used to be a challenge, particularly in logistic, but given their advancement in connectivity, at least sharing some of the basic data around islands, will help in terms of creating an open data platform. Despite the slower connection, the municipality can do digital literacy programs for the indigenous groups, and then they can be part of this journey.
Dr. Stephen Ho said it is not necessary to have a 5G connection. What is important is to have the means of communication aided even with simple technology. Second, for ecology and agriculture, it is how one optimizes the production. There is the technology that will be coming, especially taking into consideration the environmental impact, particularly on irrigation. After one optimizes the production, the next question is, "How will you bring it to the market? "There is blockchain technology that allows one to have good quality products from farm to the fork.
Furthermore, technology is also part of the solution for logistics as food security is one of the biggest issues happening now. Ho added that the DOST is helping with the solution by promoting innovation on food shelf life, and creativity, and involving the younger generations. As DOST is modernizing the process of traditional farming, it is also attracting younger talents, whatever their group is, to get involved in the process. It is not only about technology itself but how one will train/manage to pass on the knowledge to the youth and encourage them to be part of the solution and at the same time teach them how to make best use of technology.
The 2023-2028 DOST strategic pillars adhere to the promotion of human well-being; wealth creation; wealth protection; and sustainability where technologies support the circular economy programs, environmental protection, and conservation through further R&D. One of the flagship programs of the DOST is the Small Enterprise Technology Upgrading Program (SET-UP) wherein micro, small, and medium enterprises (MSMEs) are encouraged to adopt DOST's technological innovations to improve their operations, enhance the quality of their products, and boost their productivity and competitiveness.

Additionally, the activity also highlighted the presentations from Local Government Units (LGUs) by Engr. Mildred M. Purificacion, planning and development coordinator of the City of Carmona, Cavite and EnP. Ermin V. Lucino, city planner of Sta. Rosa, Laguna. Various signing activities were also conducted during the event: (1) a Commitment signing between government agencies supporting the establishment of Smart Cities with DAP, DILG, and DICT; (2) a Memorandum of Understanding (MOU) signing with the Smart Cities Network and the City of Santa Rosa; and (3) Memorandum of Agreement (MOA) signing for the DOST Innovation, Science, and Technology for Accelerating Regional Technology-based (iSTART) development program with the City of Carmona.
DOST with Isabela State University and LGU Cauayan were the pioneer agencies that supported the implementation of the Smart City initiative in Isabela Province.
By Mary Crystalline T. Araracap, DOST-STII, DOST Media Service