House Ways and Means Chair Joey Sarte Salceda (Albay, 2nd district) on Wednesday lauded Speaker Ferdinand Martin Romualdez for "prioritizing the people of Albay in time of dire needs", proving that he indeed "is a doer" by mobilizing an initial aid package worth P33 million, "at the first sign that we needed help."
Salceda said Romualdez "has been on top of things ever since we had to raise the alert level of Mayon volcano and evacuate families. Immediately, he prepared an aid package of cash and food assistance. When we, Albay congressmen asked, he was ready to answer."
"He has been hands on about this. When we talked about how the calamity could get protracted, his office promised they would continue to extend help. The initial package was P33 million. That was ready from the Speaker within hours of the Alert Level declaration. But we knew there will be more," said the lawmaker.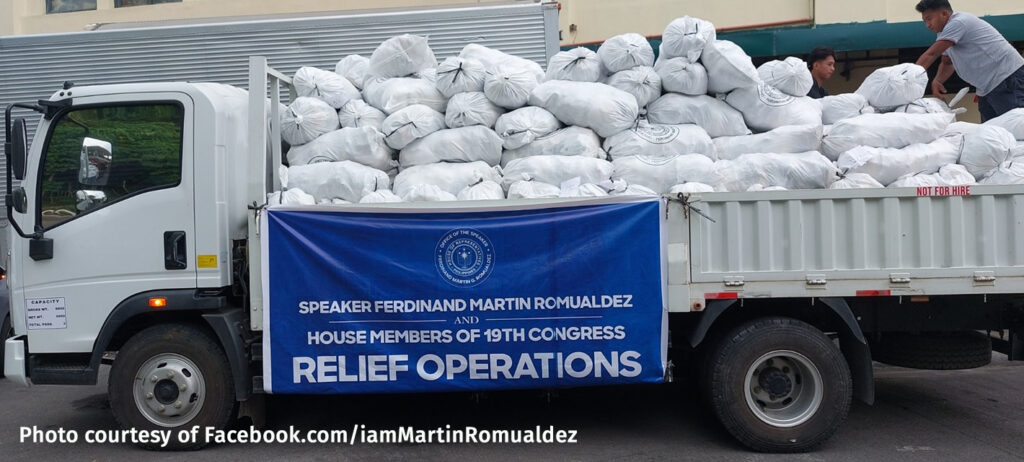 "That's crucial because, if we don't have a safety blanket of food assistance at least for the first weeks of evacuation, it will be very difficult to move families out of danger. So, the Speaker's aid package meant everything for the evacuation effort," Salceda noted, calling Romualdez's intervention "a necessary ingredient to the evacuation."
"You have to feed the evacuees; by evacuating them, you are disrupting their livelihood. So, it's a very tough sell without assurances of aid. There will be leaks if aid is not ready. And that's how lives are endangered – when evacuation is not a dignified option for the people," he explained.
Salceda is a veteran of many calamities that hit Albay, Mayon eruption among them, as governor for three consecutive terms, before he ran for Congressman of the 2nd district, seven years ago.
"When the Speaker assured us of initial help, that really got Albay mayors to move with evacuation early. The most basic problem of feeding evacuees and providing them initial economic assistance was already addressed," said Salceda.
Evacuation could take weeks, or months, and Salceda said the Speaker's assurances of continuous support had further alleviated our worries. You can't send people home just because you've run out of supplies: You have to evacuate them until the danger passes. That could take weeks or even months.
Salceda estimates, based on the latest numbers from municipalities, that authorities "might need to evacuate as much as 10,500 families or more or less 39,000 individuals. That's about as big as a mid-sized town that you need to feed, shelter, and serve."
"And if, as PHIVOLCS says it might, Mayon has a violent eruption, there will be post-disaster rehabilitation and recovery work to do. So, it doesn't end in getting evacuees to safer ground," he pointed out.
Salceda said this is the reason "why we value the continued assurances from the Speaker. He's been very straightforward about this. He assures us we will get what we need. That helps us focus on keeping our people safe. The Speaker's guarantee is a safety deposit for our people."
The House leadership team is working together for Albay with Romualdez at the top, mobilizing national government resources to keep the people of Albay safe, he said.
"The Chairs of Appropriations and Ways and Means committees, the two most powerful House committees in determining government resources, are from Albay. So, we have a responsibility to deliver to our people. And we can deliver because the Speaker has been hands-on supportive from Day One," he said.