The researchers suggest further microbial and natural product (NP) exploration of volcanoes and hot springs – underexplored habitats – that will undoubtedly yield a huge repertoire of novel and biologically active compounds.
Microbial natural products (NPs) have been prominent sources of drugs for a long history, especially for cancer and infectious diseases and hot springs and volcanic environments represent valuable sources of novel natural products (NPs), yet largely untapped and understudied.
Given this, a study on "Bioactive Compounds from Hot Springand Volcanic Microorganisms," was conducted by a research team from the University of the Philippines Cebu and Adamson University.
There are almost 400 volcanoes located all over the country according to the Philippine Institute of Volcanology and Seismology, about 25 of which are considered active, and the Philippines is also endowed with many natural hot springs.
The study by the team of Dr. Fleurdeliz Maglangit surveyed the bioactive NPs from hot springs and volcanic microbes from 2006–2022, highlighting their chemical structures and biological potential.
"Microbial pathogens or microorganisms that are capable of producing diseases, quickly evolve new ways to combat drug therapy, more rapidly than the introduction of new drugs and drug candidates to the clinical pipeline, that's why new sources of biologically active compounds effective against drug resistant cells are urgently needed," Dr. Maglangit said, one of the researchers.
The threat of antimicrobial resistance (AMR) and superbugs, which are microbial strains that have become resistant to the drugs used to treat them, have continued to rise relentlessly, rendering the current antibiotics and drugs ineffective for common infections.
AMR is considered the next silent pandemic. According to the World Health Organization, AMR is one of the top 10 biggest threats of the century, causing nearly five million deaths annually and over 1.2 million deaths directly attributed to AMR.
"Hot springs and volcanic environments have been shown to harbor high microbial biodiversity with unique metabolic profiles, yet they remained untapped and understudied for their production of novel druggable chemical entities," Dr. Maglangit said.
The NPs isolated from hot springs and volcanic microbes represent structural diversity and novelty in comparison to the NPs isolated from terrestrial or marine habitats. The hot spring water temperatures provide favorable conditions for thermophilic microbes to generate a wide array of bioactive metabolites.
Hot springs, also called thermal springs, are springs with water temperatures above their surroundings. They are produced by geothermally heated groundwater which is warmed either by shallow intrusions of molten rock in volcanic areas or by circulation through faults to hot rock deep in the Earth's crust.
Hot springs are inhabited by heat-loving microorganisms or thermophiles that can thrive at high temperatures. The diversity of these organisms has been mainly attributed to temperature. Other factors include pH, dissolved hydrogen sulfide levels, biogeography, and geological history.
Thermophiles have attracted significant interest in recent years for their production of heat-stable enzymes for biotechnological applications including industrial, agriculture, and medical processes.
Maglangit's team recommended the conduct of more extensive experiments, whether in animal models or human subjects since some of the compounds that have been identified from hot springs and volcanic microbes have only been tested in vitro.
Hot springs have been shown to host a wide variety of heat-tolerating or thermophilic, microorganisms, and among these are the hot springs in Mt. Makiling, Los Baños, Laguna, as well as the Wonder Lake hot springs, also in Laguna, and the two hot springs in Benguet – Badekbek and Dalupirip.
Incidentally, the same research team is currently involved in a research project with Mainit Hot Springs located in Brgy. Montañeza, Malabuyoc, Cebu as the area of interest. Project ISAAC (Isolation, Screening, and Antimicrobial Activity of Compounds from Actinobacteria) aims to isolate, screen, and characterize thermophilic Actinobacteria for the production of bioactive compounds with the potential for drug development. To date, several thermophilic strains were isolated from Mainit Hot Springs with remarkable bioactivities against Gram-positive pathogens including Staphylococus aureus and Bacillus subtilis compared with gentamicin or oxytetracycline antibiotic control. Isolation and characterization of the bioactive compounds are currently underway in their laboratories.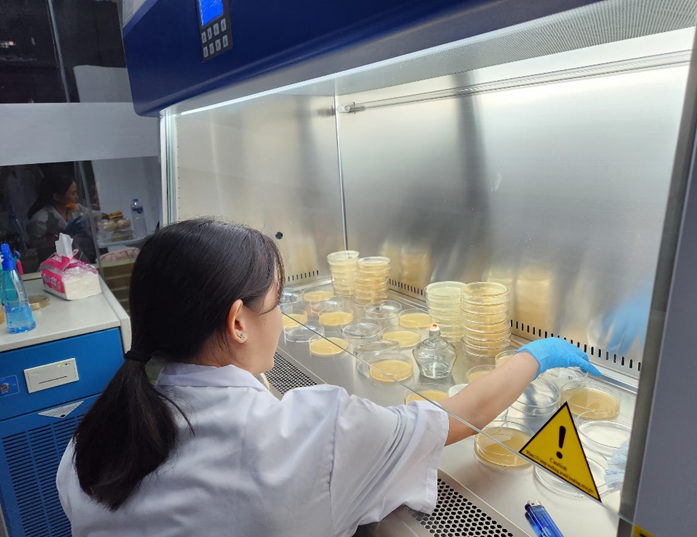 The microbial species and chemical diversity in hot springs and volcanic habitats are indeed indicative of future exploration. These novel microorganisms will also likely produce novel druggable molecules.
The research is funded by the Department of Science and Technology–National Research Council of the Philippines (DOST-NRCP).
The full report on this research will appear in the Philippine Journal of Science (PJS), the oldest science journal in the country on June 2023 issue. PJS is published by the Department of Science and Technology-Science and Technology Information Institute (DOST-STII). (Geraldine Bulaon-Ducusin, S&T Media Service)