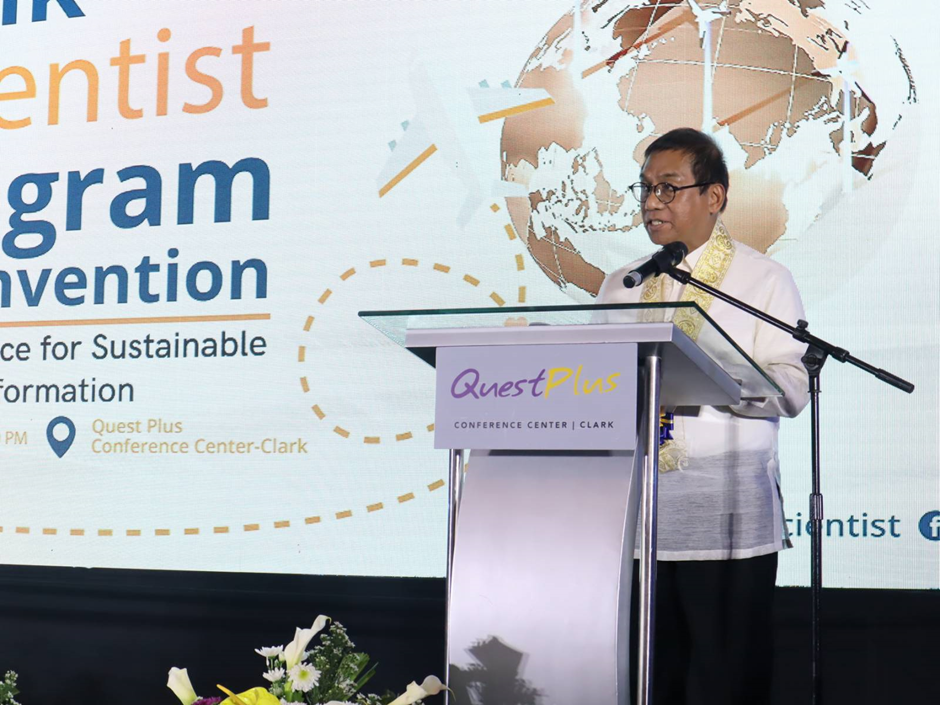 A total of 45 Balik Scientists were recognized together with their respective host institutions during the 9th Annual Balik Scientist Program (BSP) Convention on 27 September 2023 at the Quest Plus Conference Center, Clark, Pampanga.
The BSP Convention is an annual gathering of Balik Scientists, host institutions, and stakeholders that showcases the accomplishments and contributions of currently engaged Balik Scientists in the advancement of science, technology, and innovation. In addition to the plenary presentations, this year's Convention also featured poster exhibits by select Balik Scientists and generated discussions on timely topics related to climate smart agriculture, health security and health system resilience, and policy and practical applications of artificial intelligence.
In his keynote address, Department of Science and Technology (DOST) Secretary Renato U. Solidum Jr. reflected on this year's Convention theme, Balik Scientist Harnessing Global Science for Sustainable Development and Transformation, and stressed that "We must continue to support and invest in our Filipino scientists. Their role in fostering national development has become increasingly vital and solutions to complex challenges often require a global perspective and collaboration."
DOST Undersecretary Leah J. Buendia cited several notable Balik Scientist accomplishments in the likes of Dr. Syrus Gomari, a mobility planning expert who developed the Mobility Vision+, an application which is now being used by the LGUs of Taguig and Pasig in addressing their traffic problems. Dr. Miguel Mervin Pajate, a veterinarian and embryologist whose expertise was instrumental in effectively producing the second kid born through embryo transfer at Isabela State University. Undersecretary Buendia mentioned that, "not only do Balik Scientists who are currently engaged create further impact in harnessing STI in the country." Former Balik Scientists help in addressing pressing challenges the country faces such as the recent oil spill in Mindoro as led by Dr. Hernando Bacosa, Dr. Arnold Alguno, and Dr. Arnold Lubguban.
In closing, DOST Region III Regional Director Dr. Julius Caesar V. Sicat underlined the unyielding spirit of bayanihan and said that "it is through this spirit of unity and collaboration that we can truly harness the power of global science for the sustainable development and transformation of the Philippines."
The Balik Scientist Program is a pioneering initiative of the Philippine government in response to the nationwide concern on "brain drain." Through the program, foreign-based Filipino experts are encouraged to return and impart their knowledge and expertise for the advancement of research and development in the country. Since its establishment in 1975, the program has engaged a total of 631 Balik Scientists who served under 150 host institutions across 16 regions in the Philippines.
For more information about the convention and the BSP, please visit the official BSP website or Facebook page at /balikscientist. DOST – Office of the Undersecretary for Research and Development, Phone Number: 88372930.